As the name implies, the timing belt times the reciprocating lower engine parts with the precisely timed reciprocating parts in the upper engine. While in sync, the engine runs efficiently. But if they fall out of sync, it can cause serious damage the engine. It's impossible to know when your timing belt will fail. The best thing to do is to replace your timing belt at the recommended service interval prescribed by the manufacturer. This is usually between 90,000 and 100,000 miles.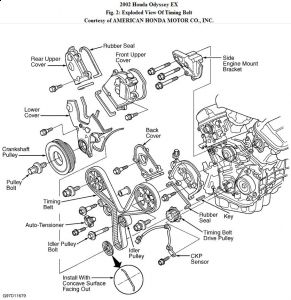 When you make your Timing Belt service appointment, give some thought to preemptively replace commonly failing parts. The opportunity to replace certain parts during your timing belt service (specifically your water pump and your accessory drive belt), when the area is accessible, will save you time and money in the near future. While most shops will tell you that you have to replace everything (tensioners, pulleys, seals), Advanced Auto Sciences takes a different approach. Dave doesn't believe in replacing
everything
while in there. Based on years of experience with Hondas & Acuras, he has a great understanding on what parts will likely fail in the future and which parts rarely fail, and will make sound recommendations.
Click
here
to view our current Timing Belt Special.